A&J Chimney - 100% Guaranteed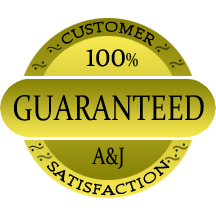 A&J Chimney GUARANTEES if for any reason, you are not fully satisfied with the services performed on your home, we will re-service those areas at no extra charge to you.
A&J Chimney Guarantees:
Guaranteed upfront pricing – you'll always know the price before we start the job.
Knowledgeable and Trustworthy Professionals –will treat your home as if it were our own.
We guarantee- we will work neat and clean to ensure your home is as clean as it was before.
Satisfaction Guaranteed - or we will reservice until you are satisfied.
We guarantee honest and objective evaluations of your chimney projects. Our 15 point inspection will help make you more aware of any hazards in your home.
A&J Chimney guarantees your customer satisfaction. Should any questions arise before or after the job you may contact us, we will be glad to help you.
Our goal here at A&J Chimney is to provide top notch service to establish life long relationships with our customers who will share the wonderful experience with their friends and families. We know we can accomplish this by:
We will serve you honestly , ethically , competently and objectively.
We stand by the work we perform. We will not compromise the integrity of our company.
We will always maintain a professional attitude of proper behavior toward you.
We will perform our duties with the respect and kindness you and your home expect and deserve.